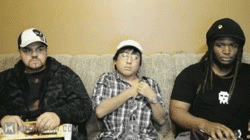 "I'm fucking good."
— 
Billy

Billy is a friend of the Best Friends Zaibatsu who has occasionally made cameo appearances in their videos. Until episode ninety-eight of the Friendcast, he had yet to actually say a word on the channel. He debuted in Fighterpedia in the Ode to Grapplers. He was later named in his second appearance, The Arcade Stick: A Gentleman's Guide. Billy was seen in the DIVEKICK episode behind the wheel of the Shame Car, presumably about to take Matt, Woolie and Liam out for a shame drive. He is commonly seen toward the end of live streams where he is referred to as "Vicious Billy".
As of January 17th, 2017 it was announced that Billy will be the official video editor of the Super Best Friends Play channel.
Description
Edit
He is known for his thick accent, penchant to yell at Chinese ladies at McDonalds, and nodding off while driving 120 miles per hour, as stated in the Deadly Premonition full Let's Play.
Ad blocker interference detected!
Wikia is a free-to-use site that makes money from advertising. We have a modified experience for viewers using ad blockers

Wikia is not accessible if you've made further modifications. Remove the custom ad blocker rule(s) and the page will load as expected.