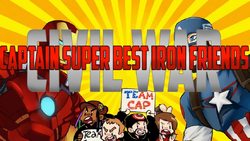 "Fight like a stallion, shoot an Italian. Buy war bonds."
— Woolie

Captain Super Best Iron Friends: Civil War is a three part event that ran from May 3, 2016 to May 3, 2016, featuring Matt, Pat, Woolie, Liam and Austin playing Marvel games in celebration of the release of Captain America: Civil War.
Ad blocker interference detected!
Wikia is a free-to-use site that makes money from advertising. We have a modified experience for viewers using ad blockers

Wikia is not accessible if you've made further modifications. Remove the custom ad blocker rule(s) and the page will load as expected.