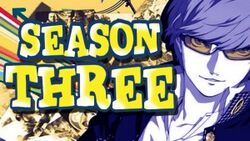 "Our first Kinect video with Rise of Nightmares! Don't forget Kenpachi Rama-Sama in Persona 4 though!"
— Website description

Season 3, which appeared on Machinima from August 14th, 2011 to November 6th, 2011 features 13 videos.  The premiere was Amnesia The Dark Descent and the finale was Cabela's Survival Shadows of Katmai.
Pages in category "Season 3"
Ad blocker interference detected!
Wikia is a free-to-use site that makes money from advertising. We have a modified experience for viewers using ad blockers

Wikia is not accessible if you've made further modifications. Remove the custom ad blocker rule(s) and the page will load as expected.