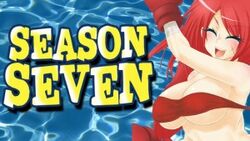 "Bug aplenty in season 7! Star Trek, Aliens Colonial Marines, and first person dickery with Walking Dead!"
— Website description

Season 7, which appeared on Machinima from April 14th, 2013 to July 7th, 2013 features 13 videos. The premiere episode was Slender: The Arrival and the finale was WWE '13. Animator Justin Hartley did the opening animations for the entire season.
Pages in category "Season 7"
Ad blocker interference detected!
Wikia is a free-to-use site that makes money from advertising. We have a modified experience for viewers using ad blockers

Wikia is not accessible if you've made further modifications. Remove the custom ad blocker rule(s) and the page will load as expected.