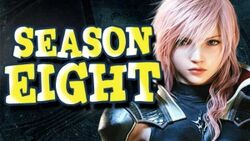 "Our biggest season ever! Marvel at it's towering length and girth! GTAV, Mario 3D Land, and Barbie Horse Adventures! All the big holiday games!"
— Website description

Season 8, which appeared on Machinima from August 4th, 2013 to March 2nd, 2014 featured 17 videos. The season premiere was Saints Row IV and finale was Donkey Kong Country Tropical Freeze. 2Snacks returns as the animator for the openings.
Ad blocker interference detected!
Wikia is a free-to-use site that makes money from advertising. We have a modified experience for viewers using ad blockers

Wikia is not accessible if you've made further modifications. Remove the custom ad blocker rule(s) and the page will load as expected.