Two Best Friends Play:

E3




Episodes
4

Combined Length
48:22

Original Run
Jun 13, 2013 - June 20, 2013
Two Best Friends Go to E3 is a series of videos showcasing Matt and Pat's coverage of E3 2013 from the ground floor, reviewing all the new games and consoles. It's four videos long--one for each day--and the last being a review back home where they enjoy ice cream sandwiches and swing on swings.
All images sans the title cards are animated .gifs.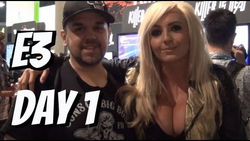 "This is exciting..."
— Pat
"...WOOOWWW this looks like shit."
— Pat

The first day video of E3 starts off with a hype intro but then shows Matt and Pat just unenthusiastically standing in front of the Los Angeles Convention Center saying that it "sucks". After rubbing elbows with Dante for a bit they get confused for the Game Grumps, Jessica Nigri appears and Pat gets his swerve on with chicks but later becomes hypnotized playing the sequel to Bayonetta.
Watch this episode on the website.
Watch this episode on YouTube.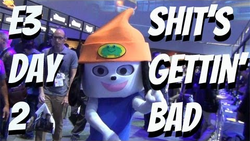 "Woolie you're a great guy and I really respect you as my friend- YOU PIECE OF SHIT."
— Rocco Botte

The second day video activities include them wondering what Conan O'Brien is doing at E3, Matt becoming reacquainted with Street Fighter 4 Killer Instinct and Donkey Kong, Pat giving rave reviews of the PS4 controller and then dominating some jobber at Divekick. Lastly, Dave Lang, Journey Monster/Thing, Keits, James Goddard, Ashly and Anthony Burch from Hey Ash! Watcha playin'?, Seanbaby, Alex Valle and Rocco Botte from Mega 64 all reaffirm to us that Woolie sucks.

Watch this episode on the website.
Watch this episode on YouTube.
Day Three
Edit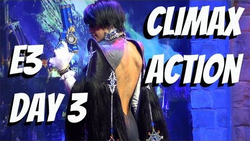 "OK, Pat's in the bathroom with a really bad case of diarrhea..."
— Matt

On the final day of the E3 Matt and Pat visit Woolie's house, gawk at a Bayonetta 2 cosplayer, unsuccessfully scout out the new ginger seeking butt chomps in Mario Kart 8 and have a little chat with the devs of Shovel Knight.

Watch this episode on the website.
Watch this episode on YouTube.
"SHUT THE FUCK UP!"
— Salty Woolie

"BAYO 2 WAS SO FUCKING SICK", is what Pat starts off the review of E3 with, then a long list of things he loved about it comes shortly after. The boys are tired from E3 so they just need a little R&R at home, playing some arcade games, buying some Liam looking stuff, shopping for some treats, riding the bus and hanging out at the playground all the while talking about the memories they accumulated over the past week. The Metal Gear Solid 5 trailer they say was the best thing about E3, besides the cosplayers anyhow. Oh, and to finish up, Matt gets Woolie's feelings on the week's videos from E3.

Watch this episode on the website.
Watch this episode on YouTube.
Woolie & Liam go to the Electronic Entertainment Exp-oh is a short 50 second video including Woolie and Rising Superstar Liam enjoying a little gaming fun of their own!
Watch this episode on the website.
Ad blocker interference detected!
Wikia is a free-to-use site that makes money from advertising. We have a modified experience for viewers using ad blockers

Wikia is not accessible if you've made further modifications. Remove the custom ad blocker rule(s) and the page will load as expected.