Super Best Friends Watch

E3 2015 Press Conferences



Links to the videos can be found below

Episodes
4

Combined Length
6:26:58

Original Run
June 15, 2015 - June 18, 2016
"Every year our videos get worse. Every year. I don't know why we even do this."
— Pat

Super Best Friends Watch E3 2015 Conferences is a four part Super Best Friends Watch series in which Matt, Pat, Woolie, and Liam watch and react to the announcements given during the multiple press conferences at the 2015 E3 as they watch the stream completely fall apart. During the Sony conference they are joined by special guest and Best Friends legend, James Small.
Microsoft 2015 E3 Conference
Edit
Watch the Microsoft video on the website.
"Microsoft's conference! What? No Scalebound….ehh…."
— Website description
"It's Fable."
— Liam
"So it's nothing."
— Matt
"Look, green! It's Battletoads."
— Matt
"Could you imagine a world where they model your face after an actor but they voice someone else entirely?"
— Woolie
"Welcome to The Last of Us."
— Liam
"Nice. He was about to talk about PC and the stream crashed."
— Pat
"Are you white or Piccolo?"
— Woolie
"Every year our videos get worse. Every year. I don't know why we even do this."
— Pat
"In the time it takes to refresh this, they cancelled Mirror's Edge."
— Matt
"They cancelled it and now they're pissing on it's ashes."
— Pat
"Deleting files live on stream."
— Woolie
"Look, a car! Start jacking off on it, car people!"
— Matt
"They threw a fistful of dollars at a dead corpse and said, 'Cool. Sick.'."
— Pat
"They're gonna spoil Drive, they're gonna spoil the California Raisins."
— Liam
"Some kid is literally stabbing their parents for money right now."
— Pat
"I hope so."
— Liam
"Nobody reads manuals. That's the twist."
— Liam
"Look at a lineup of our heroes. One of them is a car."
— Pat
"I give it zero Battletoads boners out of one."
— Matt
Sony 2015 E3 Conference
Edit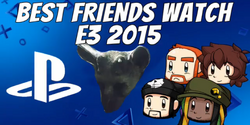 Watch the Sony video on the website.
"This shit will never be topped. Never."
— Website description
"Is this already better than Microsoft?"
— Liam
"Yes. Microsoft didn't bring your dream to life."
— Pat
"You always win arguments when you change the meanings of words."
— Matt
"I hate to say this but that creature looks like shit."
— James Small about the Last Guardian
"I hope the American box art is terrible and the Japanese box art is god-like."
— Matt
"We almost saw that kid's balls on stream."
— Matt
"Woolie, you're not the one that has to edit Matt's dick out of the Nintendo stream."
— Pat
"The time I spent in Australia was actually pretty fun."
— James Small
"Yeah, 'cause you were robbing banks."
— Pat
"Frank Sinatra is a terrible singer and a horrible artist."
— Pat
"Three... two... one... Condemned bear!"
— Matt and Pat
"Be bored on camera, that's what it's there for."
— Pat
Nintendo 2015 E3 Conference
Edit
Watch the Nintendo video on the website.
"Well this ain't no Sony press conference I tell you what."
— Website description
"I was hoping they were going into Bill Trinen's office and it was just empty."
— Matt
"I didn't think there was anything I hated more than sailing."
— Pat
"Way to throw all train operators under the train-bus."
— Matt
"They're kidnapping old Chinese grandmas at sweatshops and making them knit."
— Liam
"Why is Nintendo stealing all the Goku voices? Is it to make more yarn Yoshi Amiibos?"
— Liam
"When are we getting our asbestos Amiibos? Injected with mercury?"
— Woolie
"Springdale. Eat your burgers, Yokais."
— Matt
"Dude, the third game literally takes place in the USA."
— Liam
"Eat your ramen, idiots."
— Pat
"Zach, why did you make a Megaman level with all spikes?"
— Pat
"Is this your true nature?"
— Woolie
PC 2015 E3 Conference
Edit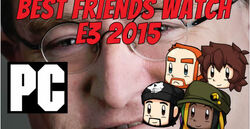 Watch the PC video on the website.
"Are you ready for almost 3 hours of nothing? I sure wasn't!"
— Website description
"I don't know if this is going to be a total shit show or not."
— Pat
"Wait. Rising Storm 2? What the fuck is Rising Storm 1? I don't know."
— Pat
"We are mocapping my penis into the game. With eighty-four million dollars, we don't know what to do."
— Liam
"So I am officially allowed to say this is incredibly biased, and I am incredibly biased, so let's just get that out of the way."
— Liam
"Is there a PC version? Yes. Is it made by Ubisoft? I'm not buying it."
— Pat
"We've gotta clarify that Woolie had plans and Matt doesn't care all that much about PCs."
— Pat
"It's his time to shine, 'cause he's so gross, and covered with bio-slime. That was a rhyme."
— Pat
"Phil, I'll suck your dick if you put Killer Instinct on there. I'll do it. I'll do it right now."
— Pat
Unlike the previous year's E3 Let's Watch, Liam is present in all of these videos.
There was no face-cam during the Microsoft video due to the video feed being lost during recording.
This is the first "Best Friends Watch" with a special guest.
The PC conference video marks the first time that only two of the Best Friends were in a Let's Watch.
Ad blocker interference detected!
Wikia is a free-to-use site that makes money from advertising. We have a modified experience for viewers using ad blockers

Wikia is not accessible if you've made further modifications. Remove the custom ad blocker rule(s) and the page will load as expected.