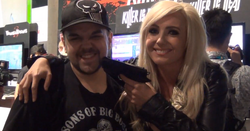 "It's pretty awesome! You guys should check it out. If you don't... no more YouTube videos."
— Jessica Nigri promoting Killer Is Dead

Jessica Nigri is an American YouTuber and promotional model who specializes in cosplay of video game female characters. Matt often mentions her on the show, and met her in the first day of E3.
She can be seen in the thumbnail for the first E3 2012 montage, as well as Mortal Kombat Komplete and Killer Is Dead.
Ad blocker interference detected!
Wikia is a free-to-use site that makes money from advertising. We have a modified experience for viewers using ad blockers

Wikia is not accessible if you've made further modifications. Remove the custom ad blocker rule(s) and the page will load as expected.