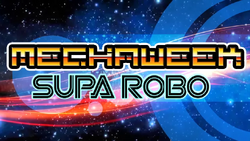 "I'm so spent and I haven't even pressed start yet."
— 
Woolie

Mechaweek 2: Supa Robo is a week-long special that ran from March 22 to March 29, 2015, beginning immediately after the first Mechaweek. The playlist for this series can be found on the website and on YouTube.
Ad blocker interference detected!
Wikia is a free-to-use site that makes money from advertising. We have a modified experience for viewers using ad blockers

Wikia is not accessible if you've made further modifications. Remove the custom ad blocker rule(s) and the page will load as expected.