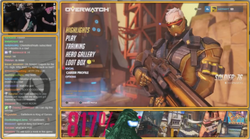 "Oh well. You lose some you some more. Then you lose a bunch more after that. Then you win one when no one's watching."
— Matt

On June 15, 2016, Matt streamed Overwatch on his Matt McMuscle's Streaming Flophouse channel.
"In every play of the game I make sure to make an appearance... by getting killed in it."
— Matt
"I'm not gonna buy any loot boxes; I'm a hero."
— Matt
"Racism is fine as long as it's cool."
— Matt
"Oh well. You lose some you some more. Then you lose a bunch more after that. Then you win one when no one's watching."
— Matt
For this stream, Matt was playing the Xbox One version of Overwatch.
Ad blocker interference detected!
Wikia is a free-to-use site that makes money from advertising. We have a modified experience for viewers using ad blockers

Wikia is not accessible if you've made further modifications. Remove the custom ad blocker rule(s) and the page will load as expected.