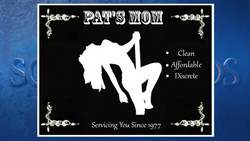 Pat's Mom is a running gag in Two Best Friends Play. Pat's Mom is depicted as an obese slut by Matt usually accompied by Matt insinuating he's had sex with her. According to Pat, his mom actually watches the show and finds the jokes funny, much to his chagrin.   
An example, taken from the Lollipop Chainsaw episode:
"Zombie Fat Old Woman?  They have your mom in this too?"
— Matt
"Oh that's funny."
— Pat
"She had a pork chop stuck in her flabs?!"
— Matt
"My mom doesn't even like pork chops!  She thinks they're OK."
— Pat
"She likes my porkchop!"
— Matt
"Oh fu- what is that?  It's big and flat?"
— Pat
Ad blocker interference detected!
Wikia is a free-to-use site that makes money from advertising. We have a modified experience for viewers using ad blockers

Wikia is not accessible if you've made further modifications. Remove the custom ad blocker rule(s) and the page will load as expected.