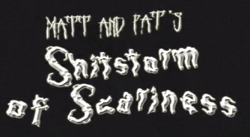 Matt and Pat's Shitstorm of Scariness was a series of videos in which Matt and Pat played a horror game everyday throughout October 2012. The Shitstorm series has caught on with the channel's fanbase, and a sequel series was made the following year, with each subsequent October having its own Shitstorm.
The entire series can be viewed in this playlist.
Episodes
Edit
Ad blocker interference detected!
Wikia is a free-to-use site that makes money from advertising. We have a modified experience for viewers using ad blockers

Wikia is not accessible if you've made further modifications. Remove the custom ad blocker rule(s) and the page will load as expected.