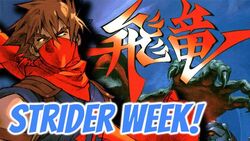 "If you didn't know Strider before, you fucking know him know!" — Matt

Strider Week is a series of videos in which Matt and Woolie look back on past Strider games. It ran from February 17 to the 21st in 2014, celebrating the release of the 2014 Strider remake. The playlist for the series can be found on either the website or YouTube.
Episodes
Edit
Ad blocker interference detected!
Wikia is a free-to-use site that makes money from advertising. We have a modified experience for viewers using ad blockers

Wikia is not accessible if you've made further modifications. Remove the custom ad blocker rule(s) and the page will load as expected.