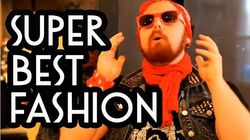 "I've died and gone to Italy!"
— Pa-trick

Super Best Fashion - ZAIBATSU STYLE is a video in which the Best Friends Zaibatsu The video can be seen here.
Description
Edit
The video begins with an interview with the Zaibatsu Fashionistas as they recount how they berated a fashion model's attire, and dug through his garbage wardrobe. It was there that they found the garb of deities, the new Best Friends shirts! There was also a cool poster.
Ad blocker interference detected!
Wikia is a free-to-use site that makes money from advertising. We have a modified experience for viewers using ad blockers

Wikia is not accessible if you've made further modifications. Remove the custom ad blocker rule(s) and the page will load as expected.