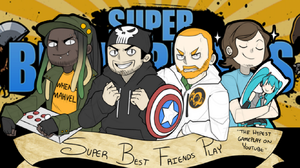 "We're making dick jokes over Demon's Souls no matter what."
— 
Woolie

Super Best Friends Stream is a series in which the Best Friends Zaibatsu plays games live on Twitch. Originally created as a solution for the faltering Nuzlocke run, it was announced on January 18, 2016 that they would be streaming on a consistent basis, starting on the 31st of that month.
Their Twitch channel can be found here: http://www.twitch.tv/superbestfriendsplay. Archived footage can be viewed on their website: http://superbestfriendsplay.com/category/stream/.
When the streams get archived to the website and YouTube, they are edited down to just the gameplay segments and exclude things like breaks and reading donation messages.
Some of the streams are titled "Shitty Games Done Slow". This is a pun on the popular charity event Awesome Games Done Quick.
In in episode one-hundred and thirty-six of the Super Best Friendcast, "This is the Only One I'm Ever F**king Doing", Pat stated that all streams follow LP rules and any game started will be finished, eventually.
Occasionally, Woolie and others will do "Secret Streams" that aren't announced on YouTube/Facebook/Twitter. These are almost never archived, with only one having been uploaded to YouTube and the website.
Ad blocker interference detected!
Wikia is a free-to-use site that makes money from advertising. We have a modified experience for viewers using ad blockers

Wikia is not accessible if you've made further modifications. Remove the custom ad blocker rule(s) and the page will load as expected.