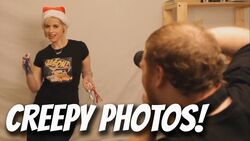 "Liam, you're employee of the month again!"
— Matt

The Best Friends Open a Hype-Ass Photo Studio! is a video in which the Best Friends Zaibatsu berate a model and announce their new line of merchandise just in time for Christmas.
Description
Edit
The video starts with Matt arriving to the apartment early, much to the Zaibatsu's chagrin. He explains to Woolie that he thought booking the studio was up to him. Thus, they create their own right there, after the model arrives shortly after. Despite their coaching, she can't quite capture the feel of Jason. To get them in the Christmas spirit, Liam places down a Christmas tree. After a Marvel overload, she angrilly stomps out, and Pat continues to take pictures.
Ad blocker interference detected!
Wikia is a free-to-use site that makes money from advertising. We have a modified experience for viewers using ad blockers

Wikia is not accessible if you've made further modifications. Remove the custom ad blocker rule(s) and the page will load as expected.